By enrolling your child at Loretto Catholic School in Douglas, AZ, you are setting them up for future success. Since 1924 we have carried a tradition of providing our students with a high-quality education while instilling Catholic values that stay with them beyond the classroom. Loretto students grow up to be kind, upstanding citizens and intelligent, inquisitive people who make a positive difference in their world!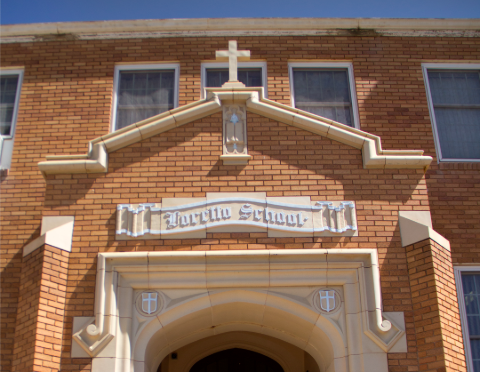 Empowering Our Students to Become Great Leaders
We enroll an average of 230 students yearly from kindergarten through eighth grade. Children entering kindergarten must be five years old by September 1 of the school year in which they are enrolling. Loretto School serves families from Douglas/Pirtleville and surrounding communities.
Offering a Fun Yet Challenging Academic Curriculum
We are proud to continue our tradition of offering the highest quality, rigorous education to help our children grow intellectually. Our teaching is assisted by usage of state-of-the-art technology. We also offer physical education and classes in the arts. Each of our classrooms are a safe, secure and structured learning environment with a small class size, so students can receive the attention they need to succeed. Our goal is academic excellence for each and every student by offering an enriching environment in which they can develop a lifelong passion for learning.
What We Stand For:
Catholic Christian Values

Leadership Skills Development

Academic Excellence

English Speaking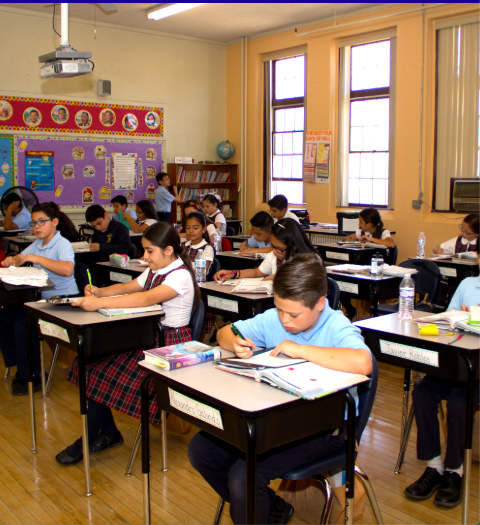 Loretto Catholic School builds, enhances and delivers excellent programs:
SEAL PROGRAM
S Self-respecting Responsible Citizens
E Effective Communicators
A Active Catholic Christians
L Life-Long Learners
SUPERKIDS in Grades K-2
SuperKids is a comprehensive core literacy curriculum which also teaches character development, enhancing not only reading skills, but life skills as well.
ONGOING RESPONSE TO INTERVENTION (RTI)
Through after-school tutoring and enrichment, AND in-school pull-out for one-on-one support, flexible classroom groupings that all students may experience success.
MAP (Measure of Academic Progress) TESTING
(Three times year) Charts each student's individual academic growth.
Book Club
Students have access to great books and reading resources, including interactive and digital.
PROGRAMS ENHANCED BY STATE-OF-THE-ART TECHNOLOGY
Including fully equipped computer lab; Interactive Boards in each classroom; Document cameras in each classroom; Wi-Fi access in each classroom; Presentation laptops and projectors in each classroom; mobile lab equipped with 50 state-of-the-art tablets for individual student use; mobile and stationary audio equipment.
MOBYMAX in Grades K-8
MobyMax creates an individualized education plan for each student, allowing gifted students to progress while simultaneously ensuring that remedial students get the extra instruction they need. Because this program is online, it is available for students' use both in school and at home.
ROBOTICS AND EDUCATIONAL MANIPULATIVES
support students in acquiring problem-solving abilities, abstract thinking skills, concept formation, creative hypothesis formulation, and digital literacy.
NATIONAL SCHOOL LUNCH PROGRAM
Serves free and reduced nutritionally balanced breakfasts and lunches to children each school day.

This institution is an equal opportunity provider.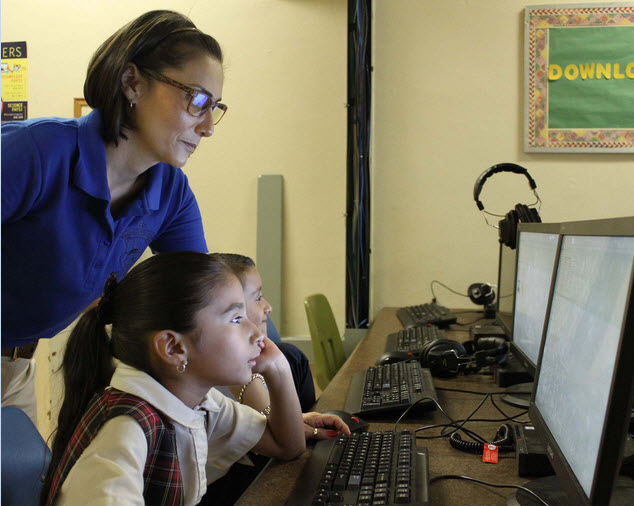 Take advantage of our many scholarship opportunities:
Partial and full scholarships

Variety of scholarship options: CTSO, AAA, ALF and others

Academic, financial, and other scholarships

Bilingual Scholarship Advisor available

Easy application process (Spanish and English)

Over the years, hundreds of families have received tuition scholarships
For more information about our numerous scholarships call 520-364-5754 or Email Us
At Loretto Catholic School, we work closely with parents in order to help their children grow and develop both academically and spiritually. Please visit our front office for newsletters, calendars, lunch menus, and to complete payments.
Helpful Websites
Our Leadership
Our administrator is the pastor/administrator of St. Luke's parish, appointed by Bishop Edward J. Weisenburger, Bishop of Tucson. Our principal is appointed by the Carmelite Sisters of the Most Sacred Heart of Los Angeles. Loretto Catholic School follows the policies and procedures of the Education Department of the Diocese of Tucson AZ.
For more information about enrolling your child at Loretto Catholic School or how you can support us, contact us today at 520-364-5754. We look forward into helping your child become a leader in the world and a follower in Christ!
Discover why Loretto Catholic School in Douglas, AZ is the right choice for your child, from our safe and secure facility to our excellence in academics and our commitment to Catholic values. Contact us today at 520-364-5754 to learn more!